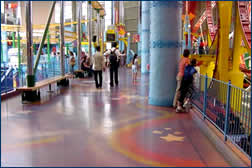 Polymer Science Corporation develops and manufactures top performance 100% solids epoxy floor systems including high strength, flexible and UV resistant epoxy coatings for industrial, commercial and residential floors, concrete hardeners and a variety of colorants.
New Concrete should be protected right from initial construction. Our PSC 2308 Green Concrete Epoxy Primer for new, damp concrete allowing application of all PSC epoxy coatings to proceed instantly, significantly reducing downtime and the amount of concrete cleaning needed.
Old Concrete floors should be repaired and restored to grade level before a final 100% solids epoxy coating is applied.
Quality. At Polymer Science Corporation no coating batch leaves the plant without passing extensive and stringent quality control requirements. Hardness, tensile and compressive strength always exceeds the specifications required by engineering and architectural design.  Our experience and care will guarantee the best flooring and coating systems for any application.